Asymmetric Reinforcement Learning under Partial Observability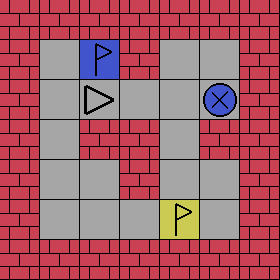 Partially observable agents are by definition unable to observe the environment state when training and/or executing online, i.e., in the environment itself. However, offline training algorithms running in simulated environments are able to access the simulation state and use it to help train the agent through a mechanism called asymmetry. Asymmetry originates from actor-critic algorithms, and is based on training a history policy \(\pi(h)\) using non-history information, e.g., a state critic \(\hat V(s)\). This is possible because the critic is a training construct that is only used during training, and not execution. The privileged state information has the potential to greatly improve the training process, its sample efficiency, and/or the performance of the resulting agent. However, prior work on asymmetric reinforcement learning is often heuristic, with few (if any) theoretical guarantees, and is primarily evaluated empirically on selected environments. One of my primary focuses in this line of research is in analyzing the theoretical correctness of existing asymmetric algorithms, and in developing new algorithms that use state information correctly.
Asymmetric A2C.
In this work, we first analyze a basic variant of asymmetric A2C found in the literature that employs state critics \(\hat V(s)\), and expose fundamental theoretical issues tightly associated with partial observability. We then propose a simple adjustment that involves the use of history-state critics \(\hat V(h, s)\), resolves all theoretical issues, and is better is better suited to train partially observable agents. The main takeaways of this work are that:
State critics \(\hat V(s)\) are fundamentally inadequate for problems that exhibit non-trivial amounts of partial observability.
History-state critics \(\hat V(h, s)\) are correct alternatives that avoid theoretical pitfalls and provide concrete benefits.
Asymmetric DQN.
Value based algorithms like DQN train a single value model \(\hat Q(h, a)\) and typically lack the dual modeling aspects of actor-critic algorithms, and seem inherently incompatible with asymmetry. In this work, we import asymmetry into the world of value-based algorithms by employing a supplementary history-state model \(\hat U(h, s, a)\) used exclusively as a training construct, and develop the theory of asymmetric value-based policy improvement using a bottom-up approach, starting from basic solution methods like asymmetric policy iteration (API), and working our way to a state-of-the-art asymmetric deep value-based algorithm called asymmetric DQN (ADQN). The main takeaways of this work are that:
We develop the theory of asymmetric policy improvement that make use of state information.
We develop a series of algorithms that result in ADQN, a modern state-of-the-art deep reinforcement learning:

Asymmetric policy iteration (API).
Asymmetric action-value iteration (AAVI).
Asymmetric Q-learning (AQL).
Asymmetric DQN (ADQN).