MIT IAP '03
Ubiquitous Computing Design Contest

Description: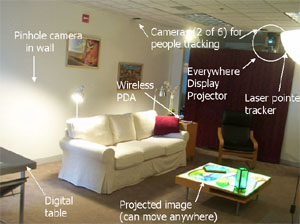 In this design contest participants will work individually or in teams using the House_n: the MIT Home of the Future Project's ubiquitous living room to create a working application or compelling demonstration of an innovative, home-based future computer interface. The living room contains computational sensing technology such as people tracking and laser pointer interaction tracking, an IBM Everywhere Display, a digital table, and a wireless connection to PDAs (see more images). The environment gives the designer substantial freedom when creating applications: information can be displayed on any surface, interacted with on any surface, and change automatically based on how people interact in the environment.
Home of the Future staff will help students critique the technical feasibility of their ideas. Tools will be provided that permit interfaces to be designed for the environment (either for programmers or for designers with Flash/HTML experience).
Teams will present their projects at the end of IAP in a session open to the public. A small panel of researchers from IBM Research and MIT will critique the projects and presentations, and IBM will award a prize to one outstanding idea.
Teams will be encouraged to videotape their system in action and submit their work to the Fifth International Conference on Ubiquitous Computing's paper or video program.
---
Schedule
Introductory session (attend one):
Mon Jan 6, 4-6:00 pm
Thu Jan 9, 4-6:00 pm
Team forming and idea brainstorming
Week of Jan 13, mostly via email
Idea presentations
Friday Jan 17, 4PM (tentative)
Training session
To be scheduled at convenience of participants sometime during the week of the 13th. We will show you how to create an application that runs in the living room.
Design critiques on request
Jan 18 - Jan 29
Final presentation/review:
January 31 (late afternoon or early evening)
Recommended video sessions:
Videos of future computing interface devices of past and present will be shown at these sessions for another House_n IAP activity. The session is likely to be helpful for participants in this activity as well and attendance at both sessions is strongly encouraged.

Tue Jan 7, 4-6:00 pm
Fri Jan 10, 4-6:00 pm
---
Place :
Led by:
Stephen Intille, Ph.D.
Research Scientist and Technology Director
Changing Places / House_n: MIT Home of the Future Consortium
Massachusetts Institute of Technology

Claudio Pinhanez, Ph.D.
Research Scientist
Pervasive Computing Group
IBM T.J. Watson Research Center
Prerequisites:
Required:

Creativity, enthusiasm, interest in UI design and the future of human-computer interfaces and ubiquitous computing.

Expertise in either Java programming, C programming with XML, or Flash/HTML.

At least 15 hours per week during IAP to develop your application -- probably significantly more to have a competitive entry.

Helpful:

Experience with video editing, still and video photography, art, and interface prototyping.
Administrivia:
Not for credit.

Limited to 15 participants.

Interested participants should register as soon as possible or by January 5 at the latest by sending email that indicates your wish to sign up for the Ubiquitous Computing Design Contest.
---
Last updated: 01/06/03