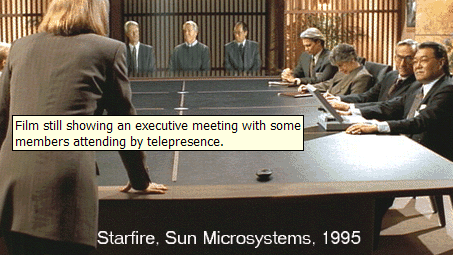 MIT IAP '03
Movie Making: Inventing the Future of Ubiquitous Computing

Introductory sessions (attend both):
Tue Jan 7, 4-6:00 pm
Fri Jan 10, 4-6:00 pm
Final presentation:
TBD (but probably Friday January 31)
Place :
Led by:
Stephen Intille, Ph.D.
Research Scientist and Technology Director
Changing Places / House_n: MIT Home of the Future Consortium
Prerequisites:
Creativity, enthusiasm, interest in UI design and the future of human-computer interfaces and ubiquitous computing. Helpful but definitely not required is experience with video editing, still and video photography expertise, artistic abilities, and interface mockup skills.
Not for credit.
---
Description:
In this course students will work in teams to create thought-provoking and entertaining videos that show compelling visions of the future of ubiquitous computing and human-computer interfaces. At each of the two introductory sessions, videos of visions of the future of human-computer interfaces will be shown; some will be working research systems from MIT and elsewhere and others will be speculative visions of what the future might hold produced by researchers and moviemakers. Students will then divide themselves into teams and with the help of MIT Home of the Future project staff develop storyboards for short videos designed to convincingly show what the future could and may hold. The videos will then be created during the remainder of IAP using whatever tools the teams require: video editing, still photography, digital editing, or even actual programming of interface mockups. Home of the Future staff will help students critique the technical feasibility of their ideas. We will hold an open house to preview the final cuts of the videos at the end of IAP. Teams will be encouraged to submit their work to the Fifth International Conference on Ubiquitous Computing's video program.
Limited to 15 participants.
Interested students should register as soon as possible or by January 7 at the latest by sending email.

---
Schedule:
"Movie nights" - List of videos shown
Tue Jan 7, 4-6:00 pm (1982 - as far as we get)
Fri Jan 10, 4-6:00 pm (- 2002, then repeat for remaining time)
Team forming and idea brainstorming
Week of Jan 13, mostly via email
Storyboard presentations
Friday Jan 17, 4PM (tentative)
Design critiques on request
Jan 18 - Jan 29
"Opening night" presentations:
January 31 (late afternoon or early evening)
---
Last updated: 01/11/03