Tenth OOPSLA Workshop on Behavioral Semantics: Back to Basics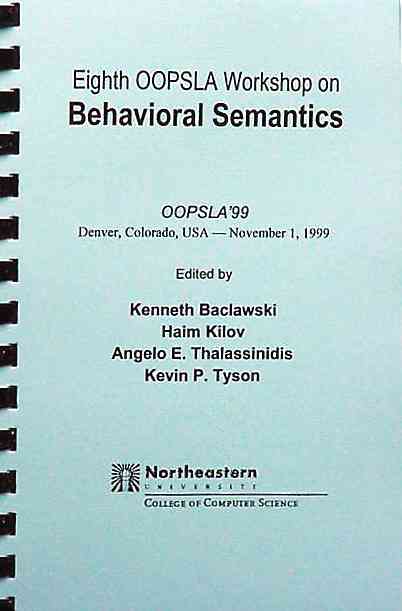 Abstract
The purpose of this workshop is improve the understanding and use of precise semantics in OO specifications and designs. The goal is to be a focal point that brings together theoreticians and practitioners to report their experience with making semantics precise, clear, concise and explicit in OO business specifications, business designs, and system specifications. Papers can range from academic research to industrial ``war stories.'' This is the tenth anniversary of this OOPSLA workshop series. The specific emphasis this year is to return to the ``basics'' to recapture insights and ideas that might otherwise slip into oblivion, while also looking forward to the future of the field.
Agenda
Classical work and recent progress on the precise semantics of OO modeling.
Progress in academic research and ``technology transfer'' of this research.
Industrial experience with precise specifications.
Tool support for precise semantics.
Proceedings
The Proceedings will be available at the Workshop.
The Table of Contents is now available.
Workshop Organizers
Haim Kilov is an independent consultant. He has been involved in all stages of information system specification, design, and development. His approach to information modeling, widely used in financial, insurance, telecommunications, document management, and other areas, especially for business specifications, has brought demonstrable clarity and understandability to specifying (components of) businesses and systems. It has been described in two of his books published by Prentice-Hall in 1994 and 1999 and in a significant number of other publications. He has also edited two books on behavioral semantics of businesses and systems for Kluwer Academic Publishers. He has been the cochair and proceedings editor for many OOPSLA and two ECOOP workshops on behavioral semantics and has been a speaker, tutorial presenter and program committee member for many international conferences. He is a subject area editor of Computer Standards and Interfaces. He substantially contributed to several international standards on Open Distributed Processing and to the work of various OMG working groups and task forces. Haim Kilov is using and extending his approach to specifications in customer engagements, and does research and consulting in the areas of business specifications and information modeling. He has been affiliated with Iona Technologies, Bellcore, IBM, and the Technology Strategy and Planning Department of Merrill Lynch.

Kenneth Baclawski is an Associate Professor of Computer Science at Northeastern University. He has a B.S. from the University of Wisconsin and a Ph.D. from Harvard University. Prof. Baclawski's research interests include Formal Methods in Software Engineering, High Performance Knowledge Management, and Database Management. He teaches a variety of courses in Software Engineering, Object-Oriented Systems, Databases, Data Modeling and Operating Systems. He has participated in and directed many large research projects funded by government agencies including the NSF, DARPA and the NIH. He is a cofounder of Jarg Corporation which builds Internet-based, high performance knowledge management engines. Prof. Baclawski has published over 30 articles in major research journals. He has also published extensively in conference and workshop proceedings. He holds two U.S. patents and has 5 pending patents. Prof. Baclawski is a member of the ACM and the IEEE. He has held many positions in both organizations, including President of the Boston Chapter of the ACM.
Themes and Goals
The continuing theme of the Workshop Series on Behavioral Semantics is to foster precise and explicit specifications of business and system semantics. The need to understand and specify semantics in this way, independently of any (possible) realization, has been recognized for a while. Some progress has been made in these areas, both in academia and in industry. However, in too many cases only lip service to these ideas has been provided, and as a result the systems we build or buy are all too often not what they are supposed to be.
We used to live with that, and quite often users relied on human intermediaries to ``sort the things out.'' However, with the rapid development of e-commerce and agent-based systems, there is no human intermediary; if the system is not what it is supposed to be then its user will quickly go to a competitor.
This series has successfully brought together practitioners and theoreticians who have been working to make this vision a reality. This year, the series will be celebrating its tenth anniversary by revisiting the classics of the past while also looking to the future of the field. We refer to this as ``Back to Basics.''
One of the unfortunate characteristics of Computer Science and Software Engineering is a noteworthy lack of interest in work done in the past. It is taken for granted that a two-year old book could not possibly still be relevant. Yet there are books such as the Garmisch 1968 Conference on Software Engineering show that many of the concepts considered now to be a recent invention, have existed for a long time. This includes such concepts as pair programming, component factories, the gross inadequacies of box-and-line diagrams, the confusion generated by a set of tacit assumptions, among many others. Systematic usage of the basic ideas from this book, as well as many other classics, would prevent the enormous waste of effort resulting from reinventing these ideas.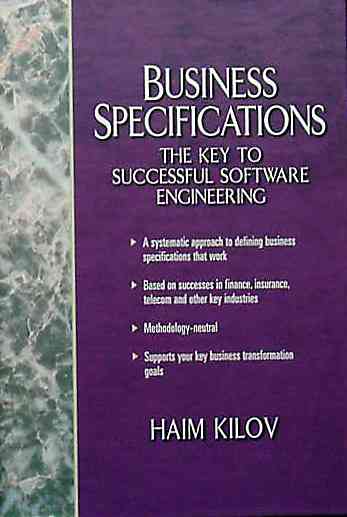 As in all the workshops in this series, it is our goal to be a focal point of bringing together theoreticians and practitioners to report their experience with making semantics precise, clear, concise and explicit in (OO) business specifications, business designs, and system specifications. We invite papers varying from academic research (especially dealing with transferring theory into practice) to industrial ``war stories.'' This year there is an emphasis on revisiting the classics both to ``set the record straight'' and to recapture insights and ideas that might otherwise slip into oblivion.
References
(Books [2] and [3] were based on the previous OOPSLA and ECOOP workshops on specification semantics.)
Open Distributed Processing - Reference Model: Part 2: Foundations (IS 10746-2 / ITU-T Recommendation X.902, 1995).
H.Kilov and W.Harvey (Eds.). Object-oriented behavioral specifications. Kluwer Academic Publishers, 1996.
H.Kilov, B.Rumpe, I.Simmonds (Eds.). Behavioral specifications of businesses and systems. Kluwer Academic Publishers, 1999.
K.Baclawski, H.Kilov, A.Thalassinidis, K.Tyson (Eds.). Proceedings of the Eighth OOPSLA Workshop on behavioral semantics (Denver, 1999). Northeastern University, 1999.
H.Kilov. Business specifications. Prentice-Hall, 1999.
K.Baclawski, H.Kilov (Eds.). Proceedings of the Ninth OOPSLA Workshop on behavioral semantics (Minneapolis, 2000). Northeastern University, 2000.
Selection Process
the invitation to submit will be posted in various newsgroups and mailing lists. Invitations will also be emailed to past participants in this workshop series. Submitted papers (5-10 pages) will be reviewed by the organizers. The accepted papers, after rework by the authors, will be published, again as usual, in the Workshop Proceedings. These Proceedings will be distributed before the workshop.
Please send submissions to Haim Kilov <haimk@acm.org>
A/V Support

Ordinary (transparency) projector, 2 flipcharts.

Related Web Pages

---